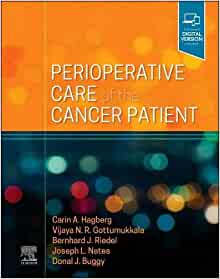 Carin A. Hagberg MD FASA
More than 80% of patients with cancer will need the services of anesthesiology and perioperative medicine, intensive care medicine, and pain management specialists during their cancer journey for diagnostic, therapeutic, and symptom management needs, as well as for the management of recurrent disease, secondary cancers, and ongoing non-oncologic surgical needs during survivorship. Perioperative Care of the Cancer Patient is today's most up-to-date, authoritative, comprehensive reference on the acute care of surgical patients with cancer, from a team of international experts in this emerging and dynamic specialty.
Covers current clinical practice and perioperative care guidelines during the entire cancer journey for both adult and pediatric patients. 

Includes a diverse array of topics on cancer care, such as cancer epidemiology, cancer biology, ethics in cancer care delivery, value proposition in cancer care, opportunities and challenges with research programs in perioperative cancer care, application of big data and computational sciences in cancer medicine and care delivery, and the MD Anderson Cancer Center Moon Shots Program®. 

Discusses newer cancer therapies and their perioperative implications, functional assessment and prehabilitation, enhanced recovery programs in cancer care, challenges with novel cancer therapies in the care of the critically ill cancer patient, chronic and interventional pain management in patients with cancer, and more. 

An educational resource and clinical reference for surgeons, anesthesia practitioners, hospitalists, internists, pain physicians, intensivists, basic science researchers, and all clinicians involved in the acute care of surgical patients with cancer. 

Enhanced eBook version included with purchase. Your enhanced eBook allows you to access all of the text, figures, and references from the book on a variety of devices. 
Download