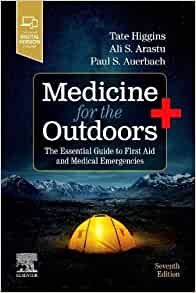 Tate Higgins
For nearly 40 years, Medicine for the Outdoors: The Essential Guide to First Aid and Medical Emergencies has been the take-along manual of choice for anyone venturing into the mountains, forest, desert, or on water. This essential guide provides highly illustrated, easy-to-follow guidance on immediate stabilization and treatment of persons with virtually any possible medical problem―designed for on-the-spot use when higher-level medical care is not accessible. Written by experts in outdoor medicine, this updated edition helps you manage any situation until medical personnel can take over.
Covers key information on a wide range of disorders related to specific environments, including natural disasters, high-altitude problems, water-related incidents, heat- and cold-related illnesses, and wildland fires.  

Provides easy-to-understand recommendations for dealing with animal attacks, venomous wildlife, wild plant and mushroom poisoning, minor and major medical problems, infectious diseases, water disinfection, and severe bleeding.  

Discusses key topics, including antibiotics, medicines, opioid overdose treatment, wound closure techniques, severe bleeding, spinal assessment and immobilization, tourniquets, the use of a Gamow bag for severe altitude illness, splinting, dental emergencies, disaster preparedness, global conflict guidelines, canine medicine, today's infectious disease threats, and much more. 

Includes up-to-date guidelines, even more helpful illustrations and diagrams, and a new chapter: Patient Assessment: A Structured Approach to Emergencies in the Outdoors. 

Includes advanced topics valuable to physicians and expedition medical staff at all levels of training and experience. 

Enhanced eBook version included with purchase. Your enhanced eBook allows you to access all of the text, figures, and references from the book on a variety of devices. 
Download