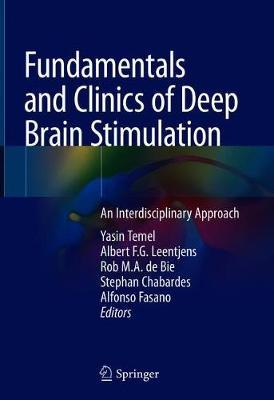 Yasin Temel, Albert F.G. Leentjens, Rob M.A. de Bie, Stephan Chabardes, Alfonso Fasano
This book provides a state-of-the-art overview of our current understanding of deep brain stimulation (DBS) for the treatment of neurological and psychiatric disorders. With a broad multidisciplinary scope, it presents contributions from leading experts in the field from Europe and America, who share not only their knowledge, but their experience as well. The book focuses both on basic and theoretical aspects of DBS, as well as clinical and practical aspects. It follows an evidence-based approach, and where possible offers clinical recommendations based on published guidelines.
It starts with a general section, which discusses basic principles and general considerations. This is followed a sections dedicated to neurological disorders, and psychiatric disorders, in which only accepted indications are discussed. All experimental indications are discussed in the final chapter. The text is supplemented with numerous illustrations.
Intended for medical specialists and residents involved in the treatment of patients with DBS, it also appeals to other professionals working with DBS patients, such as psychologists, nurses, physiotherapists, as well as basic and clinical neuroscientists.

Download