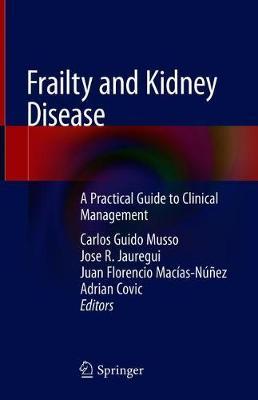 Carlos Guido Musso, Jose Ricardo Jauregui, Juan Florencio Macias-Nunez, Adrian Covic
This unique book reviews the information available in the literature regarding the new syndrome, frailty, in patients with various renal conditions, such as acute kidney injury, chronic kidney disease, as well as dialysis and transplant patients.
The topic is of importance in nephrology, specifically nephrogeriatrics, since frailty is a condition affecting many elderly patients and which is becoming increasingly common in medical practice. As such, there is a considerable need for information to assist professionals treating these patients.
The book includes chapters on the frailty syndrome (definition, evaluation and treatment), the main geriatric syndromes (gait disorder, falls, incontinence, and delirium), the main renal syndromes (acute renal injury, chronic kidney disease) as well as dialysis and kidney transplant, and the relationship between geriatrics and renal syndromes.
Frailty and Kidney Disease: A Practical Guide to Clinical Management is an essential resource for general practitioners, researchers, internal medicine physicians, geriatricians, and nephrologists.

Download