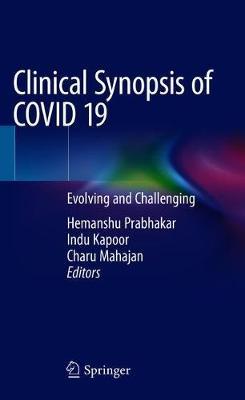 Hemanshu Prabhakar, Indu Kapoor, Charu Mahajan
Corona virus disease or COVID-19 or SARS-CoV-2 infection is the latest pandemic that has affected humans globally. The disease has manifested itself in several forms and is now the focus of research worldwide.
This book covers all the clinical aspects of the novel corona virus disease, COVID-19, which is one of the most contagious diseases ever known. It includes topics related to basic sciences, such as the virology and pathophysiology of the SARS-CoV-2 disease. It includes chapters related to symptomatology of the disease and making diagnosis, preparation of the health care workers to deal with this global pandemic. The book includes chapters on anesthetic and intensive care management of COVID-19 disease victims as these topics are of vast importance. Additionally, it includes a chapter giving insight in to the ethical aspects of the issues raised regarding disposal of bodies of the victims, as this pandemic has taken many lives across the world. It includes a chapter on special considerations to patient population such as geriatrics, pediatrics and pregnant women.
The book serves as a useful resource for practitioners and clinicians in any field of medicine. It is also relevant for residents, trainees, fellows pursuing their courses in emergency medicine, anesthesia and critical care as well as postgraduates and even undergraduates.
The book will serve as a ready-reckoner and useful guide for physicians from varied specialties during their clinical practice.

Download