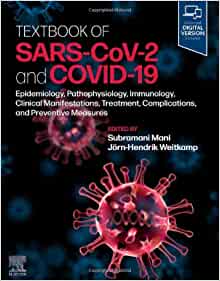 Subramani Mani MBBS (MD) PhD
Written by physicians and scientists with expertise in this evolving area, Textbook of SARS-CoV-2 and COVID-19 provides a coherent, readable, and clinically relevant review of the biology, epidemiology, pathophysiology, immunology, clinical features, current treatment, and prevention strategies for the SARS-CoV-2 virus. Using both a systemic and topic-based approach, it summarizes and clarifies the extensive literature published on SARS-CoV-2 and COVID-19, includes a comprehensive bibliography, and provides answers to clinical questions at the point of care from multiple specialty perspectives.
Includes dedicated chapters for pulmonary, cardiac, neurological, and oral manifestations of COVID-19. 

Covers therapeutics and novel therapeutic targets of SARS-CoV-2 and COVID-19. 

Addresses the diagnostic and management challenges of COVID-19 in the emergency department. 

Discusses COVID-19 in special populations, including the effect of SARS-CoV-2 infection in pregnant mothers and to the fetus and newborn. 

Provides a systematic overview and comparison of vaccines that are approved and in development.   

Enhanced eBook version included with purchase. Your enhanced eBook allows you to access all of the text, figures, and references from the book on a variety of devices. 
Download