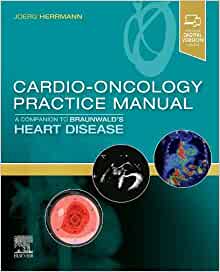 Joerg Herrmann MD
Today's patients have unique cardiologic needs before, during, and after cancer treatment. Chemotherapies, radiation therapy, and targeted therapies can produce acute side effects or lasting adverse consequences on the heart and circulatory system, making the field of cardio-oncology increasingly important in effective patient care. Cardio-Oncology Practice Manual is a comprehensive, portable guide that provides practical approaches to assessment and management of cardiovascular diseases due to the effects of cardiotoxic agents and treatments. Part of the Braunwald family of renowned cardiology references, it clearly presents clinically relevant aspects of this growing field in one quick, practical reference for a wide range of cardio-oncology providers.
Covers all major cancer therapies, cardiovascular toxicities, and malignancies in a portable, authoritative guide―ideal for cardiologists, cardio-oncologists, general practitioners, internists, medical oncologists, and hematologists.
Offers

templated and streamlined content

for quick retrieval, with key point summaries for each major section.
Presents cardiac disease entities and specific malignant diseases in a

succinct overview

format addressing important clinical care aspects.
Features

"Central Illustrations" for each topic

that visually summarize the chapter and its specific content including algorithms for management of cardiovascular toxicities and one-view overviews of malignancies.
Includes a

comprehensive drug guide

that provides quick reference to drugs prescribed for cancers with therapeutic indications, manifestations and mechanisms of cardiotoxicity, their risk factors, and risk reduction strategies.
Brings you up to date with

new immune therapies

, including immune checkpoint inhibitors and CAR T-cell therapies
Enhanced eBook version included with purchase. Your enhanced eBook allows you to access all of the text, figures, and references from the book on a variety of devices.
Download