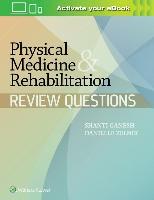 Shanti Ganesh, Danielle Zelnik
This concise question-and-answer review book boasts over 600 multiple-choice questions covering the general competencies, core knowledge, and the common topics critical for board exam success and professional competency. Test yourself on stroke rehabilitation, spine trauma, traumatic brain injury, neuromuscular disorders, and more! You'll also find advice on how to approach the exam, as well as test-taking tips and tactics.
Features an extensive collection of electrodiagnostic medicine questions, including advanced concepts.
Contains a comprehensive chapter covering biostatistics, research, health policy, and epidemiology questions ideal for MD/MPH students.
"Pearls" at the end of each chapter offer key concepts and points to keep in mind when tackling relevant test sections.
E-book features an interactive component to help you further hone your test-taking skills.
Enhance Your eBook Reading Experience:
Read directly on your preferred device(s), such as computer, tablet, or smartphone.
Easily convert to audiobook, powering your content with natural language text-to-speech.

Download