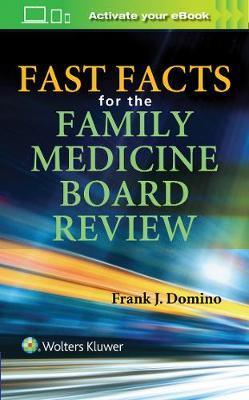 Frank J. Domino
From cover to cover, Fast Facts for the Family Medicine Board Review is designed to help you achieve success on the American Board of Family Medicine exam. This easy-to-use, up-to-date review tool is aligned with the ABFM exam, providing essential information to help you succeed. In every chapter, succinct clinical knowledge is structured to allow immediate practice for testing that knowledge-a proven format for success on medical board exams and in practice.
Key Features
Organized according to ABFM exam sections, including Pediatrics, Obstetrics/Gynecology, Internal Medicine, Emergency/Surgery, Psychiatry and Geriatrics.
Content is weighted according to ABFM exam coverage.
The eBook format includes flashcard capability that allows you to quiz yourself easily in either print or electronic formats.
General and specific guidance on the skill and art of test-taking, as well as the blueprint of the ABFM exam, prepare you for exam day.
Ideal for family medicine residents, medical students in their family medicine clerkship, and physicians taking the ABFM recertification exam.
Your book purchase includes a complimentary download of the enhanced eBook for iOS, Android, PC & Mac.
Take advantage of these practical features that will improve your eBook experience:
The ability to download the eBook on multiple devices at one time – providing a seamless reading experience online or offline
Powerful search tools and smart navigation cross-links that allow you to search within this book, or across your entire library of VitalSource eBooks
Multiple viewing options that enable you to scale images and text to any size without losing page clarity as well as responsive design
The ability to highlight text and add notes with one click

Download