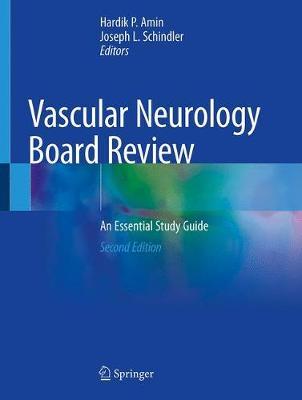 Hardik P. Amin, Joseph L. Schindler
This book provides a concise review for practitioners in preparation for the Vascular Neurology Boards including the Maintenance of Certification exam. This valuable second edition is expertly written and supplemented with new treatment paradigms as well as new and updated trial results..
Beginning with a general overview on how to prepare for the exam, this practical guide emphasizes clinically relevant scientific principles that must be mastered by the stroke clinician. Subsequent chapters review acute management of ischemic and hemorrhagic stroke, specific epidemiological risk factors, stroke pathophysiology, stroke classification, and vascular neuroanatomy. This edition also reviews cardiac and hematological considerations in stroke patients, genetic stroke syndromes, vascular malformations, cognitive disorders, stroke rehabilitation, and peri-operative stroke management.
Vascular Neurology Board Review, Second Edition, is not only written to act as a guide for the neurology resident and fellow, but also as a useful framework for non-neurologists.

Download