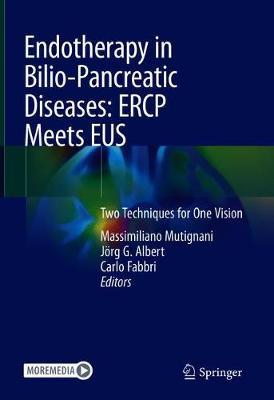 Massimiliano Mutignani, Joerg G. Albert, Carlo Fabbri
This volume presents the technical and cultural state of the art of two of the riskiest, most complex and operator-dependent digestive operative techniques: endoscopic retrograde cholangiopancreatography (ERCP) and endoscopic ultrasonography (EUS). The authors compare old and new techniques, shedding light on the most recent and innovative scientific findings, including those in the field of anatomic pathology and molecular biology considered relevant for the analysis of tissue samples collected during EUS.
In view of the technical difficulties specific to these techniques, the book also offers access to online-videos and numerous images, making it a valuable resource both for physicians approaching these techniques for the first time as well as for those already using them.
Organized into 7 sections, it describes in detail all techniques related to ERCP/EUS, together with any specific technical equipment required. It also presents a new paradigm based on the latest results in the areas of prevention, diagnosis and management of the most common complications. Clinical outcomes presented in international literature, as well as algorithms – both based on scientific evidence and expert findings – are illustrated and compared to alternative treatments.

Download