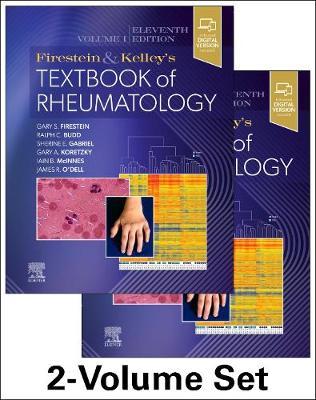 Gary S. Firestein, Ralph C. Budd, Sherine E Gabriel, Iain B McInnes, James R O'Dell, Gary Koretzky
Through 10 outstanding editions, Kelley & Firestein's Textbook of Rheumatology has provided authoritative, in-depth guidance in rheumatology with an ideal balance of basic science and clinical application. The 11th Edition of this classic text continues this tradition of excellence, while keeping you abreast of recent advances in genetics and the microbiome, new therapies such as biologics and biosimilars, and other rapid changes in the field. It provides comprehensive, global coverage of all aspects of diagnosis, screening, and treatment in both adults and children, in a user-friendly, full color reference.
Covers everything from basic science, immunology, anatomy, and physiology to diagnostic tests, procedures, and specific disease processes-including key data on therapeutic outcomes to better inform clinical decision making.
Includes new chapters on Innate Lymphoid Cells and Natural Killer Cells, Pathogenesis of Inflammasome Mediated Diseases, Bisphosphonates, Ultrasound Evaluation of the Musculoskeletal System, and Evaluation of Monoarticular and Polyarticular Arthritis.
Features 1,200 high-quality illustrations, including superb line art, quick-reference tables, and full-color clinical photographs.
Shares the knowledge and expertise of internationally renowned scientists and clinicians, including new editor Dr. Gary Koretzky, specialist in immunology and rheumatology.
Demonstrates the complete musculoskeletal exam in online videos, including abnormal findings and the arthroscopic presentation of diseased joints.
Enhanced eBook version included with purchase. Your enhanced eBook allows you to access all of the text, figures, and references from the book on a variety of devices.

Download