by Conrad Fischer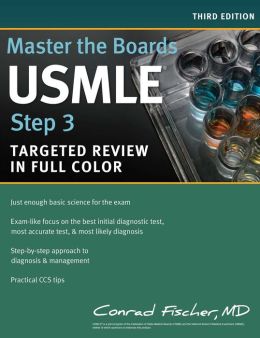 The only Step 3 board preparation guide to be linked, page by page, to a comprehensive Question Bank.
In order to study effectively for the Step 3 Board exam, students need a definitive, concise guide that contains only the most important information needed to pass the test. Kaplan Medical Master the Boards USMLE Step 3 clearly outlines all Step 3 tested-content.
Drs. Fischer and Reichert present diseases in USMLE-style format: What is the most likely diagnosis? What is the best initial test? What is the most accurate diagnostic test? What is the most accurate and best treatment for a given diagnosis?

Kaplan Medical Master the Boards USMLE Step 3 features:
A step-by-step approach to must-know concepts on the exam
Keys to diagnosis, prognosis, and course of treatment for specific conditions, in sequential order
Full-color diagrams, charts, images, and sidebars to aid in recall and retention for this broad-ranging exam
Review of computer-based case simulations (CCS), which make up 20 percent of a student's final score
Download