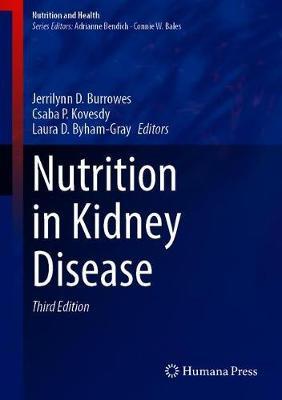 Jerrilynn D. Burrowes, Csaba P. Kovesdy, Laura D. Byham-Gray
This third edition of this text is organized into seven sections that address the educational needs of dietitians around the world who seek current information about nutritional management of chronic kidney disease (CKD). Part I addresses the differences in the epidemiology of CKD and renal replacement therapy worldwide, such as environmental, ethnic, cultural, political and macroeconomic factors. Part II includes a thorough review of the components of the nutrition assessment, which includes information about psychosocial issues affecting nutritional status in kidney disease and drug-nutrient interactions, and parts III and IV review preventative strategies for common disorders associated with CKD such as hypertension, type 2 diabetes, obesity and cardiovascular disease are provided, and current evidence-based treatment recommendations for the nutrition management of non-dialyzed, dialyzed and transplanted adults are addressed. Part V presents the nutritional concerns of CKD populations with special needs (i.e., pregnancy, infancy, childhood, adolescence and the elderly). The nutrition management of other disorders associated with kidney disease are covered in Part VI; these include protein-energy wasting and the inflammatory response, bone and mineral disorders, nephrotic syndrome, nephrolithiasis, and acute kidney injury. Lastly, Part VII is devoted to cutting-edge research on topics of concern in nutrition in kidney disease such as the gut microbiome including pre- and probiotics, appetite regulation, advanced glycation end products, physical activity and structured exercise, and dietary patterns including plant-based diets. When appropriate, the new clinical practice guidelines in nutrition for individuals with CKD are integrated into the chapters.
The third edition of Nutrition in Kidney Disease will be a highly informative resource for nephrologists, nutrition scientists, nutritionists, and researchers and students whose research, practice, and education includes nutrition and kidney disease.

Download