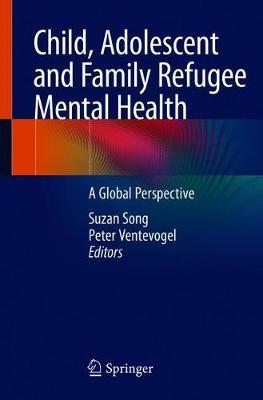 Suzan J. Song, Peter Ventevogel
More than half of the 25.9 million refugees in the world are under the age of 18 and the mental health of these children and adolescents constitutes a growing global public health priority. Refugee children and their families are at increased risk to develop mental health problems, but they often face major challenges in accessing adequate treatment and mental health professionals frequently feel ill-equipped to assist this group.
Refugees are faced with a plethora of issues including the ambiguous loss of loved ones, psychological trauma related to past experiences of violence and atrocities, the complexities of daily life as a refugee, and the challenges to adapt to new systems of care and support. Refugees' life circumstances all too often undermine their agency, asthey face discrimination, stigma, and social isolation or exclusion. Refugees are frequently disconnected from the usual family and community supports that they once had, which creates additional mental distress. As parents struggle with these changes, their children often find it even more difficult to adapt and connect with them. This all leads to increased prevalence of mental health conditions among refugees.
Humanitarian policies recommend family-centered interventions that are multi-sectoral,multi-disciplinary, and focus on optimizing resource utilization. Over the last decade, a considerable body of research has emerged around socio-ecological models of mental health, family and community approaches, and resilience and strengths-based theories, but these insights are insufficiently incorporated in the practice of mental health care for refugee children. Clinicians often struggle to grasp the common unique stressors that families face and are not familiar with working with families as units for intervention. Using culturally and contextually informed assessment methods and family-oriented management approaches not only help individual children or adolescents, but also their families.
This book aims to provide an overview of the latest theoretical insights from research on sociocultural aspects of mental health and connect these with clinical insights from practical mental health care provision. Using strengths-based, resiliency-oriented and family-centered approaches can enrich clinical practice in refugee mental health, but clinicians need to translate the emerging evidence into concrete steps and interventions. This requires additional skills for the assessment and management of mental health conditions in refugee children and families.
The chapters in this book are written by a diverse group of authors using global, multi-disciplinary approaches. The chapters provide examples from various contexts including refugees who are displaced to neighboring countries, refugees 'on the move', and refugees and asylum seekers in resettlement settings. This book is therefore a unique resource for clinicians, researchers and policy makers working on mental health issues of refugee children and adolescents around the world.

Download