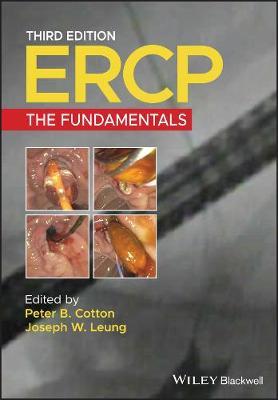 Peter B. Cotton, Joseph W. Leung
Provides the comprehensive knowledge required to perform ERCP safely and effectively
Authored by the very best in the field, this "how-to" guide to mastering the crucial yet complex gastrointestinal procedure called endoscopic retrograde cholangiopancreatography (ERCP) covers the entire range of both standard and advanced techniques, using a highly practical approach. It also places a strong emphasis on patient education, safety, and minimizing risks, offering "tips and tricks" and key points throughout to aid rapid understanding. The book is filled with over 250 illustrations
Covering ERCP preparation, techniques, clinical applications, and quality and safety, ERCP: The Fundamentals, 3rd Edition begins with chapters on "getting prepared," including training and competence; facilities and equipment; risk assessment and reduction; sedation, anesthesia, and medications. It then covers "what can be done," describing standard devices and techniques; intraductal therapies; ampullectomy; and reporting and documentation. Next it has chapters on "what should be done," clinical applications of ERCP in acute cholangitis; peri-cholecystectomy; difficult bile duct stones; biliary pain; and numerous forms of pancreatitis. The book finishes with coverage of adverse events and how to ensure competent practice.
Teaches all of the standard and advanced ERCP techniques
Focuses on patient safety/comfort throughout
Brilliantly-illustrated with endoscopic, EUS and radiologic images, and anatomical drawings
Offers a step-by-step, practical approach to ERCP–highlighting potential technical and anatomical hazards
Packed with tips and tricks boxes and key points boxes to assist comprehension
20 high-definition videos of ERCP performed by the experts, perfect to improve clinical technique
Full reference to the very latest ASGE, ACG, ASG and UEGW guidelines throughout
Brought to you by world pioneers in endoscopy, ERCP: The Fundamentals, 3rd Edition is an essential purchase for gastroenterologists and endoscopists of all levels.

Download